According to an article from College Transitions, Top College Admission Trends in 2018, "The overall number of college applicants is expected to increase this admissions cycle, and the trend of seniors applying to more and more colleges is unlikely to fade. At last count, 35% of college applicants applied to seven or more schools. It's not uncommon for superstar students to apply to 20 or more schools in a misguided attempt to hedge their bets."
So, how can a college or university compete to admit those students, as well as meet and/or exceed their admission numbers? Recruitment CRM Software.
This article will look briefly at Generation Z coming into colleges today, how their tech-savvy skills impact how colleges and universities reach them, and how recruitment and admissions CRM software can help increase your college's admission numbers.
Understanding Generation Z Students
A recent article from the National Association for College Admission Counseling provided some great insights into this generation of college bound students: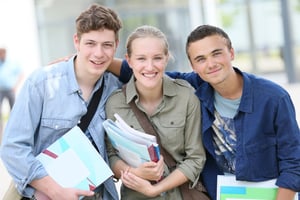 Generation Z students have replaced millennials on college campuses and are the most tech-savvy of all generations to date.
"In a world where they can instantly stream their favorite TV shows on Netflix and their favorite music on Spotify, Generation Z expects instant answers to their every question," according to Dayna Bradstreet, assistant director of admission at Simmons College in Boston. said Bradstreet.
So, how do colleges and universities need to adapt their recruitment and admissions processes to meet these students' needs and reach their enrollment goals?
Here are some important things to know:
Communication
"Email is one of their least preferred communications in admission," said Meghan Grace, co-author of Generation Z Goes to College. "They prefer texting."
"If they get too many emails from one institution, they get turned off," said Bob Bardwell, a school counselor in Monson, Massachusetts, and NACAC board director. "Be selective of what you send and when you send it."
With the changes in how this generation communicates, it is important for colleges and universities to get it right. This will require more effort to meet those students where they desire to be met.
Tip: To be successful, it is important that colleges communicate with prospects using multiple sources. CRM software helps manage all of your relationships, send well-timed targeted communication and track it all in an efficient and effective way.
Social Media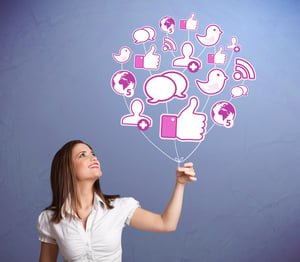 Peter Kraft, CEO and co-founder of Evolution Labs said that "millennials may have been digitally native, but Gen Z is mobile and app-native" and that Generation Z's "lens to the world is a small screen with multiple apps running simultaneously."
Whereas Facebook was the go-to social media platform for millennials, Generation Z is all over Instagram.
Successful colleges and universities understand that social media is a powerful tool to get in front of their prospects and engage them.
Tip: To increase your enrollment numbers, it is important to meet your prospective students where they live. Facebook, Instagram, Snapchat and Spotify all allow colleges and universities to place ads that are demographic, interest and geo-targeted. Once you have gotten their attention and interest, your CRM software can help you manage and track all of those prospects.
Personal Contact
One-on-one communication, while traditional, is desirable among Generation Z students as well.
"Students want face-to-face interaction," said Meghan Grace. "Admission officers need to take the time to build a face-to-face relationship with prospective students."
When it comes to school counselors communicating with students about college admission, Bardwell said it's important to understand what this generation of students wants in terms of communication to best serve them. "Understand what motivates them to give them the support they need," he said.
Personal contact efforts should include the following:
Events - Outreach events are often your first contact with students that put your school on their radar and create interest in your programs. CRM software should allow you to manage all aspects of creating and hosting any admissions-related event. It should also give you the ability to define events, control display of the event information to prospects and applicants on the web, manage your invitees, RSVPs, and attendees, and communicate routinely with your event populations.
Call Campaigns - Nothing beats a personal phone call. Recruitment CRM helps you identify those applicants that need a personal phone call, easily records and tracks the results of that phone call, and schedules follow-up calls.
Campus Tours - Campus tours have become an important part of engaging prospects and gauging their interest. CRM software works in coordination with your web portal as a means for your prospects and applicants to see your tour availability and to schedule their campus visit.
Tip: In order to maximize your success and meet your enrollment numbers, it is important to make sure that your CRM software solution offers modules that allow you to maximize your outreach efforts with personal contact through call campaigns, outreach events and campus tours.
The College Search Process
According to a 2017 College Admissions Report from niche.com, "Applicants seem to prefer their own research tools (student reviews, net price calculators, and rankings) over person-to-person contact when researching." These statistics show what factors are most important in the search process:
What is important for students when choosing where to apply?
Student Reviews 56%
College Net Price Calculators 52%
College Rankings 51%
College Websites 48%
College Representative 45%
High School Counselor 34%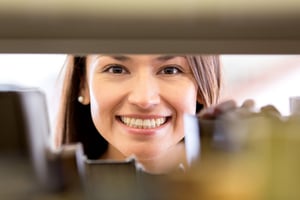 The above statistics highlight that students want more engagement online and in person. Students will consider student reviews on social media and research your school through your website. Although they rank online research slightly higher in determining where to apply, you cannot underestimate the importance of outreach efforts from your college representatives are to their decision-making process. And, don't forget to include communication with high school counselors. They still have influence on college decisions.
Tip: Once they apply to your school, communication efforts become even more important in putting your institution at the top of their list. With tens of thousands of prospects to manage, it is increasingly important to use recruitment CRM tools. Manual methods only increase the chance that prospects, communication and tasks fall through the cracks.
What is important when choosing where to attend?
Has Desired Major 91%
Cost/Financial Aid Package 83%
Reputation of College 72%
Outreach from Admissions 54%
Close to Home 39%
It makes sense that the desired major, cost/financial aid, reputation of the college and proximity to home would be major factors in the decision of where to attend. However, it is interesting to see that outreach efforts from admissions staff would rank up there.
Tip: It is important that your recruitment CRM allows you to communicate in an ad hoc and personalized manner. Don't forget to look at how easy your potential solution is to do this.
Don't Forget the Parents
Parents still have a major impact on where their student decides to attend college. According to the National Association for College Admission Counseling, parents have changed also.
Whereas millennial parents trusted colleges and universities to take care of their kids, Generation Z parents are less trusting.
Both Generation Z students and parents are more practical than millennial parents. "There used to be questions about parking and what to do on the weekends, but now there are more questions about safety and about student loan debt and graduation rates," according to Jeff Kallay, principal of Render Experiences, a consulting firm that specializes in campus visits. "They are thinking about making money in relation to college earlier than in the past."
It is important for colleges and universities to understand and engage with parents on these issues and be able to answer follow-up questions parents may have.
Tip: Recruitment CRM software allows you to manage and track parent relationships and communications easily and cost-efficiently.
Application Process
A prospective student's initial interaction with your school could be the admissions process. Generation Z students have certain expectations about technology and communications.
If your process is not easy to use, they will most likely be turned off by it.
As we discussed in our previous article, College Admissions Statistics Highlight The Need For Admissions CRM Software, 30% of the 20.4 million students applying to college will apply to 7 or more schools.
So, it is a guarantee that your process will be compared to multiple other schools.
If your process is manual, you can be sure that those students will think your school is "out of date" and be frustrated by it, particularly if they have to wait a long time for an answer.
If you have a manual system or one that isn't working for you, one way to up your yield rate is to implement a CRM software solution that has an application management module with it.
The Application Management module should be a completely-integrated admissions component that will simplify your entire admissions process and allow you to run an efficient and results-oriented admissions office.
Today's students not only expect you to provide them with the ability to apply online through a secure, user-friendly and intuitive application, they also want to receive timely and relevant feedback and continuous communications throughout their application process, as well as a prompt admissions decision.
Tip: Most recruitment and admissions CRM software solutions are simply a CRM. They claim to be admissions software, but that isn't really what they do. Look for a software company that has staff who have experience with the admissions process, not just software developers who think they know what how your admissions process should work.
Summary
The recruitment and admissions process is becoming more complex for colleges and universities every day to meet enrollment numbers.
So, it is becoming necessary to use recruitment and admissions CRM software to manage and track thousands of individual prospects annually including email communications, text messaging, campus tours and events.
With the ability to capture and manage all of the information on your prospects and applicants and have it flow through your system automatically, even the most tech-savvy applicants will be impressed.
And, the best benefit of automating the whole process...It Saves Time, Money and Manpower!